---

Welcome to Florida SouthWestern State College!
Now that you're a part of the Florida SouthWestern State College family, many opportunities await you. Did you know that 70 percent of FSW students graduate debt free? By choosing to become an FSW Buccaneer, you have made both a strong academic and economic decision.
At FSW, you'll quickly discover that our faculty members bring world-class experience and a deep knowledge base to the classroom. Our course offerings will prepare you to further your education and start your dream career, and along the way, your FSW experience will stretch far beyond the classroom. Honors courses, internships and undergraduate research opportunities are available, and FSW students can even study abroad in Italy at the Lorenzo de' Medici Institute. Many others have traveled abroad to experience learning in countries including Russia and the Galapagos Islands.
You will always find ways to stay engaged on campus. Student clubs and activities, intramural sports and a state-of-the-art fitness center will keep you socially and physically active. You can also enjoy the arts - from musical and theatrical performances by your fellow classmates to the exhibits in our Rauschenberg Gallery, Rush Gallery, and Museum of Medical History.
If athletics is your thing, then come out and cheer on your Bucs! City of Palms Park, the former spring training facility of the Boston Red Sox, is home to our baseball and softball teams, and the Suncoast Credit Union Arena houses our men's and women's basketball teams and women's volleyball team. Since we brought back our athletics program, our teams have come out in full force, all together winning 11 conference championships, two state championships, and four Top 10 finishes at the NJCAA National Tournament in less than five years. The FSW Athletic Department once again recorded the highest overall winning percentage in the state of Florida for the second straight year in 2019-2020.
Make the most of your education and experiences at FSW. When the day arrives that you put on your cap and gown, I'll be there to congratulate you on a job well done.
Go Bucs!
Dr. Jeff Allbritten, President
About Florida SouthWestern State College
Over Five Decades of History
As the largest institution of higher learning in Southwest Florida, Florida SouthWestern State College (FSW) has been serving the five-county region of Lee, Collier, Charlotte, Hendry and Glades for over five decades, and currently has over 52,000 alumni serving in the healthcare, education, public service, and technology industries around the world. Originally founded in 1962 as Edison Junior College, FSW has developed into a leading provider of higher education opportunities for deserving students from across the country.
From Edison State College to Florida SouthWestern State College
In May 2014, Florida Governor Rick Scott signed a bill to change the college's name to Florida SouthWestern State College. On July 1, 2014, faculty, staff, students, administrators, and business and political leaders joined to celebrate the first day of the institution's new beginning as Florida SouthWestern State College. Along with the new name, the FSW Buccaneers resumed collegiate athletic competition in fall of 2016.
FSW Today
Led by its fourth president, Dr. Jeffery S. Allbritten, the college remains committed to providing each of its students affordable educational access to a four-year baccalaureate degree, a two-year associate degree, or a certificate from one of its five schools:
School of Health Professions
School of Education
School of Business and Technology
School of Pure and Applied Sciences
School of Arts, Humanities, and Social Sciences 
FSW's Center for International Education provides students with summer study abroad opportunities in Italy and Spain. Some FSW courses also provide students with opportunities to travel to locations like Russia and the Galapagos Islands where they study the culture and conduct ecological research alongside FSW faculty and scientists. Additionally, the FSW Office of Sponsored Programs and Research provides even more opportunities for students and faculty to participate in research topics that are of interest to them.
FSW's Honors Scholar Program offers students an enriched and challenging educational experience that extends learning beyond the classroom. The program strives to cultivate academic excellence, skillful leadership, and commitment to social responsibility. As a rigorous, transdisciplinary program, students are inspired to seek out transformative experiences and participate in the world in new ways.
Opportunities Abound
A fixture in Southwest Florida, FSW provides numerous educational and entertainment opportunities for its students and the community.
The college is known for its dedication to the arts with the Barbara B. Mann Performing Arts Hall, the Bob Rauschenberg Gallery at FSW, and the Rush Collections Gallery all located on the Lee Campus in Fort Myers. The Barbara B. Mann Performing Arts Hall, which is an integral part of the college, hosts performances throughout the year, including fall and spring performances by FSW's jazz, symphony orchestra, and choir. Additionally, the college is home to the Bob Rauschenberg Gallery at FSW, where numerous exhibits are open to the public featuring artists of modern and contemporary art in all mediums, including the works of the late Rauschenberg and international names like Yoko Ono. Within our Richard H. Rush Library, visitors can view the Rush Collections Gallery on the ground floor.
In the fall of 2016, the Suncoast Credit Union Arena, located on the Lee Campus in Fort Myers, opened as the home to the college's men's and women's basketball teams and the women's volleyball team. The arena also serves as a place for intramural sports and features a modern wellness center. Additionally, the arena hosts a variety of concerts, graduations, tournaments, and community events. The community can also catch an FSW Bucs baseball or softball game at City of Palms Park in Fort Myers.
Faculty, staff, students, and the community can enjoy a game of pickleball at the Punta Gorda based Charlotte Campus' new PicklePlex and gaze at the stars during monthly events held at the James & Barbara Moore Observatory.
In LaBelle, the Hendry/Glades Curtis Center's Education Hall, featuring the Barbara and Joe Marlin Hilliard Library, also includes three study rooms; the First Bank Community Room for community meetings and events; The Perry Family Galleria (Julia Perry, Tommy Perry, Stanley Perry, Carl Perry); a computer lab/classroom, six faculty offices, and a patio plaza.
On the Collier Campus in Naples, environmentally-friendly practices are abundant. In fact, the campus is the first in Collier County to have LEED-certified buildings, which are constructed with environmentally-friendly materials and are exceptionally energy efficient. The Collier Campus has also been recognized as the first Blue Zones Project-recognized college in Florida and only the second in the nation. The Allen & Marla Weiss Health Sciences Hall is home to one of the most sophisticated ER simulation suites, which prepares nursing and paramedic students to make an immediate and positive impact in healthcare. The college, in partnership with the University of Florida and the Healthcare Network of Southwest Florida, has a dental building that provides dental care to children who may not otherwise have the benefits of a healthy smile.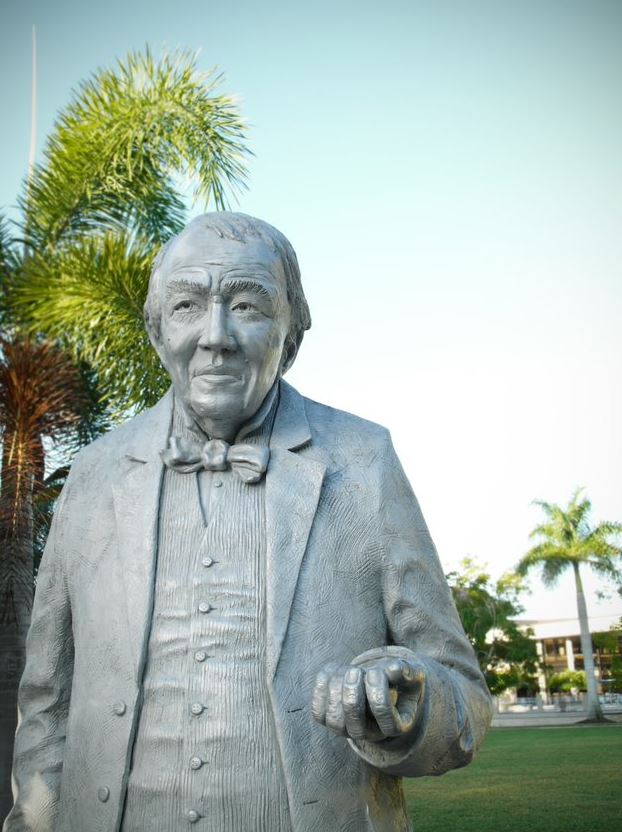 Board of Trustees
Danny Nix, B.S., Charlotte County
Danny Nix, of Punta Gorda, is the owner of Nix & Associates Real Estate, LLC. He received his bachelor's degree from Western Governor's University. He was appointed November 20, 2017.
Christian Cunningham, M.A., Collier County
Mr. Cunningham, of Naples, is the chief human resources officer for Herc Rentals. He received his bachelor's and master's degrees from the University of Pennsylvania. He was appointed January 30, 2018.
Laura Perry, B.A.S, M.A., Glades County
Ms. Perry is a speech language pathologist with the Glades County School District. She earned her bachelor's degree from Florida SouthWestern State College and her master's degree from the University of Florida. She was appointed April 19, 2018.
Julia du Plooy, B.S., Hendry County
Ms. Du Plooy, of Clewiston, is an independent contractor and owner of Julia du Plooy, LLC, and serves as the president of the Lake Okeechobee Business Alliance. She received her bachelor's degree from Florida State University. 
Bruce Laishley, Charlotte County
Bruce Laishley, of Punta Gorda, is the co-owner of Smuggler's Enterprises, Inc, and is the CEO of Florida Premier Contractors, LLC, and the co-owner of Southwest Land Developers, Inc. He was appointed August 21, 2017.
Jonathan A. Martin, J.D., Lee County
Mr. Martin, of Fort Myers, is an attorney with Parvey & Frankel Attorneys, P.A. He received his bachelor's degree from Stetson University and his juris doctorate degree from Liberty University School of Law. He is appointed February 28, 2018.
Marjorie Starnes-Bilotti, J.D., Lee County
Marjorie Starnes-Bilotti, of Fort Myers, is a retired attorney. From 1994 to 1999, she was a member of the Florida State Board of Community Colleges. Starnes- Bilotti received bachelor's and law degrees from Florida State University.
David Ciccarello, Lee County
Partner at Wilbur Smith law firm, bachelors from FSU and juris doctorate from Stetson University.  He was appointed July 31, 2019.
Florida SouthWestern State College will be the catalyst for innovative education, which provides accessible pathways that prepare students to be enlightened and productive citizens.
We value student success, integrity, intellectual inquiry, and academic rigor.
The mission of Florida SouthWestern State College is to inspire learning; prepare a diverse population for creative and responsible participation in a global society; and serve as a leader for intellectual, economic, and cultural awareness in the community.
Strategic Directions
   1. Expand educational access.
Goals
Work with regional partners to expand access to FSW degree and certificate programs through college readiness programs, articulation agreements, and scholarships.
Create an intuitive and seamless enrollment pipeline and increase the percentage of high school graduates from our service district who apply and enroll.
Support students in goal identification and outline academic pathways to keep students on track to degree and certificate completion.
  2.  Advance a world-class educational experience.
Goals
Develop relevant academic and co-curricular programming that develops students as well-rounded scholars and enlightened global citizens.
Support curricular and programmatic innovation to enhance the academic experience, facilitate transdisciplinary research and thinking, and engender student achievement.
Create robust student engagement programs that support student connections and engender intellectual, cultural, and civic awareness in the broader community.
   3.  Innovate online and distance education.
Goals
Engage in best practices to expand and innovate online and distance education to make learning accessible and responsive to global trends.
Identify and utilize innovative technologies across all programs to enhance student access, support, and achievement of learning objectives.
Provide enhanced professional development opportunities to support engagement with technologies that bolster academic achievement.
   4.  Prepare students for a globally competitive workforce.
Goals
Respond to community needs for postsecondary academic education and career degree education by identifying, developing, and continually improving our workforce-related curriculum and the industry certification, college credit certificate, and degree options.
Develop and maintain relevant bachelor's degrees and 2+2 articulation agreements to support baccalaureate attainment and promote employability of graduates.
Provide non-credit training opportunities to meet the needs of local businesses, establish internship opportunities, and provide articulation pathways into certificate and degree programs.
   5.  Create a Culture Focused on Inclusion and Continuous Improvement
Goals
Shape a secure environment through strategic facilities planning, campus safety initiatives, that support an inclusive campus community.
Promote a culture of mental, physical and social wellness through programs, auxiliary services, events, and activities.
Engage in ongoing professional development to create a positive, welcoming, and innovative environment that attracts a world-class faculty, staff, and administration focused on ensuring student success.