Student Affairs and Enrollment Management
In support of the academic mission of the college, the division of Student Affairs and Enrollment Management provides services and programs to help students perform academically to the best of their abilities.
Academic Advising
Academic Advising is an integral part of a student's success at Florida SouthWestern State College. The mission of Academic Advising Services is to provide students with information, guidance, and support as they develop educational goals. Our commitment is to help students develop and understand the benefit of an education plan, to think logically and analytically, to communicate effectively, to seek and evaluate information, and to act with sound judgment to reach goals in a timely manner. Prior to enrollment in the first term, degree-seeking students are required to meet with an Academic Advisor as part of the enrollment process.
As a result of participation in Academic Advising, students will be able to demonstrate the following competencies:
Locate information about College policies and procedures regarding registration, academic standing, and student conduct.
Access and run an online degree audit and be able to interpret the information about progress to degree completion.
Be familiar with the FSW Portal account and be able to use the Portal features.
Access and run an online degree audit and develop a comprehensive academic plan for achievement of educational goals including a timeline for graduation.
Know where and how to access appropriate resources and support services to accommodate their unique needs.
Academic Advising is available by appointment or on a walk-in basis. Students are encouraged to meet with an Academic Advisor early in the semester to review educational goals, plans, and options each term.
Adaptive Services
At Florida SouthWestern State College, the Office of Adaptive Services' (OAS) goal is to assist students achieve educational success by providing services that empower students while working within the limitations of documented disabilities. FSW proudly accepts our legal obligation with the Americans with Disability Act and are pleased to share the responsibility in providing equal access and equal opportunity to college sponsored activities and educational programs.  If you have a documented disability - permanent or temporary, whether physical, mental or sensory - you may be eligible for reasonable accommodations.
Once a student completes the self-identification process, it is the mission of OAS to focus on the abilities of each individual while empowering the student with the tools necessary to become self-assured and effective learners, strong problem solvers and successful members of our academic community. OAS, along with the Equity Officer, is responsible for coordinating college-wide compliance to equal access, equal opportunity for students, staff, faculty and guests who may need assistance.  Be empowered today…self-identify!
Office of Admissions
The Admissions Office is responsible for administering Florida SouthWestern State College's admissions policies and providing information to prospective students regarding the admissions process, including admissions requirements, residency for tuition purposes, classification of new students, and enrollment steps. The staff members in the Admissions Office provide prospective students, applicants and members of the community with guidance to complete the admissions and enrollment process. Admissions requirements, policies and procedures are outlined within the College Catalog.
Career Services
Career Services provides resources to assist Florida SouthWestern State College students who are uncertain about their majors. Free assessments help students select a major based on their interests and personality. Assistance is also provided for resume and cover-letter writing and interviewing techniques. Students may also learn about job descriptions and educational requirements for thousands of occupations. In addition, students may register for the Florida SouthWestern State College JobNet, where they can view hundreds of area jobs and career listings and can post resumes for participating employers.
Counseling Services
The mission of the Office of Counseling Services is to enhance students' educational experience by addressing mental health-related barriers to learning, enabling students to make informed decisions, while promoting holistic wellness. The Office of Counseling Services embraces a holistic approach to mental health by offering referrals, private therapeutic sessions, workshops, group counseling, and crisis intervention.
New Student Orientation
New student orientation is required for all first time in college students. First time in college includes incoming freshman and any graduating high school senior with previous dual enrollment credit from FSW.  Orientation helps students prepare for the transition into college life and provides an introduction to the programs and services available through Florida SouthWestern State College. New student orientation sessions are scheduled at each FSW location and registration is required.
New student orientation features academic and social components to include:
Connecting with students, faculty, staff and College resources; learning what is expected of you as a student and finding the support you may need.
Academic advising, first-semester schedule planning, and course registration.
Financial aid and scholarship information.
Navigating the student portal technology resources.
Clubs and organizations, student activities, and Dedicate to Graduate initiatives.
Ombudsperson
The mission of the Student Ombudsperson is to provide to all students an accessible, independent, impartial, and confidential resource for the expeditious resolution of problems. The Ombudsperson serves in the capacity as an advocate for fairness of outcomes. In seeking to prevent problems as well as to respond to them, the Ombudsperson acts as an agent of change by continuously evaluating established processes and procedures intended to address issues pertaining to student satisfaction, programs, and services. The Ombudsperson is the Assistant Vice President of Student Affairs and Dean of Students.
Housing and Residence Life
Florida SouthWestern State College offers students the opportunity to live on campus in our new 405-bed residence hall, LightHouse Commons. LightHouse Commons is a living-learning community that features suite-style living that allows the students of FSW to continue to live, learn and grow outside of the classroom. LightHouse Commons blends quality housing and luxury student-centered amenities with on-campus convenience. Each suite features a kitchenette and living area shared by suitemates. Residents of LightHouse Commons will have a private bedroom that includes water, electric, cable/Internet. Access to resident amenities (such as the Recreation Room and Fitness Center) are included at no extra charge.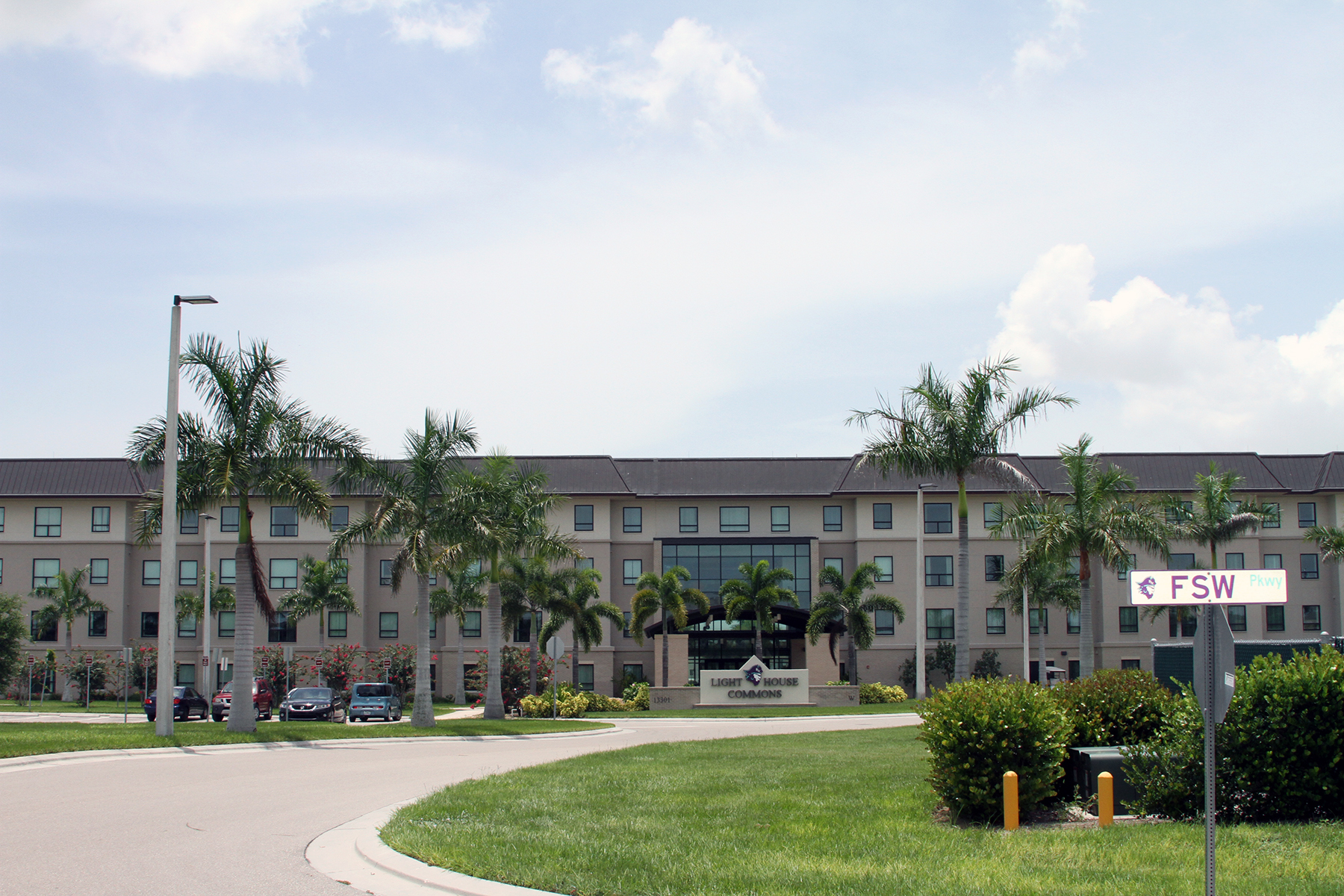 The mission of the Office of Housing and Residence Life is to foster a supportive, safe, and engaging living-learning community which enables students to flourish not only academically but personally as well.
The goals of our living-learning community include but are not limited to:
Service: We will strive to exceed the expectations of our students, colleagues, and community.
Leadership: We will aid in the development of future leaders within our campus and community.
Collaboration: We will work to develop rich, meaningful relationships with campus and community partners.
Engagement: We will challenge our students to be engaged in all aspects of college life.
Diversity: We will recognize, celebrate, and embrace the differences that exist within our community.
For more information, please visit our Housing and Residence Life Homepage at (www.fsw.edu/housing)
Student Email
Florida SouthWestern State College has designated email as the official method of communication with students regarding topics of an academic or administrative nature. The College will assign an email account to each student and expects students to be responsible for all information sent to them via their College email account.
Student Engagement and Campus Activities
Student Engagement is an important facet of the Florida SouthWestern State College experience. In keeping with this philosophy, Student Egagement sponsors a variety of academic, cultural, social, and developmental activities and events at Florida SouthWestern State College. These activities are designed to provide a more enjoyable and multifaceted campus experience. To find more information on student activities and programs, see Florida SouthWestern State College's online events calendar, contact the Student Engagement office on your campus, or via email at student.engagement@fsw.edu the Portal calendar page, or contact the Student Life office on your campus.
Student Government Association and Student Representation
The Student Government Association (SGA) is the students' voice at Florida SouthWestern State College. There is a college-wide SGA and a Student Senate ate each FSW location.  The SGA serves:
To provide a means whereby members of the student body may advocate and express themselves.
To provide leadership for the student body to benefit of the entire College.
To promote campus and civic engagement at for Florida SouthWestern State College.
The SGA is made up of elected Senators at the campus level and an executive board at the college-wide level who coordinate educational, awareness, and advocacy oriented projects and follow through on student issues. Representatives confer with their advisor(s) on matters of student interest and concern to promote the general welfare of the student body. All qualified students are invited to participate in SGA by attending meetings and running for office. Students are free, individually and collectively, to express their views on issues of college, local, state and federal policy and on matters of general interest to the overall student body. The Student Government Association provides a means for participation in the formulation and application of policy affecting academic and student affairs with the assistance of the SGA Campus Congress Advisor(s) and the Director of Student Engagement. Proposals for changes in policy, regulations and procedures that affect the student body as a whole are to be directed through the SGA and its Advisor or the Director of Student Engagement.
The right of assembly for students is recognized, providing that student gatherings do not disrupt or interfere with the orderly educational operation of the institution. Such assembly must be in compliance with Florida Statutes and College policies and procedures.
Student Identification
The BUC Card (Student ID) is available to all students. Students should carry their BUC Cards with them at all times. Not only is the BUC Card required at the library and in various academic computer laboratories, but it also serves as a valid photo ID when student verification is required at the Admissions, Academic Advising, Financial Aid, and Registration counters, at the Testing Center prior to testing, and when selling textbooks back to the Bookstore. Additionally, the BUC card is required for admission to all Office of Student Engagement programs as well as all college sporting events hosted by FSW.  Please keep in mind, the BUC Card will be required for any Bookstore purchases with excess financial aid funds. Dining Plans, Campus BUC$ (campus wide declining balance account), and Dining Dollars will also be accessed via the BUC Card. In addition, the BUC Card may qualify students for discounts in area theaters and businesses.
Student Clubs and Organizations
Club activities at Florida SouthWestern State College provide a variety of opportunities for students to participate in the college community outside the classroom. For more information, contact the Student Engagement office on your campus.
Organizing a Club
Students are encouraged to join clubs and to organize associations at Florida SouthWestern State College for educational, political, social, religious or cultural purposes, as long as they are in keeping with the philosophy and objectives of the College. The College procedure for organizing a campus club is as follows:
Secure a Petition for Organization from the Student Engagement office on your campus.
Submit the completed Petition to the Student Engagement office. The Petition should include a list of prospective members, a constitution and by-laws, a sponsor and any other information that may be relevant according to the College Catalog.
Following approval, the Student Engagement office will inform the new club of its status and offer support as the club develops.
Student Participation in Decision Making
Florida SouthWestern State College promotes student participation in the decision-making process of the College through a number of opportunities. These include but are not limited to representation on the Curriculum Committee, student surveys, screening committees, AS Programs Committees, student focus groups, Student Government Association (SGA) and various clubs and organizations.
Student Support Services Program
The Student Support Services Program is funded by the U.S. Department of Education. This program is designed for students whose parents did not graduate from a four-year college/university and whose family income may hinder them from remaining in college without financial assistance. A potential Student Support Services student must be enrolled at Florida SouthWestern State College, have a demonstrated academic need, be pursuing an AA degree and planning to complete a bachelor's degree. The student must be a citizen or a permanent resident of the U.S. or a permanent resident of a territory of the U.S.
Student Support Services assists selected, qualified participants with the following:
Course and transfer advisement
Scholarships for limited income participants
Tuition fee exemptions for peer mentors
Cultural and educational activities
Workshops on relevant topics
Computer skills lab
Peer mentoring program
Math and English tutoring services
Career exploration
Enrichment program
Testing Services
The Florida SouthWestern State College Testing Centers provide testing services at each of the four FSW locations: Charlotte, Collier, Hendry/ Glades, and Thomas Edison (Lee). The mission of each testing center is to provide optimal testing conditions by maintaining a comfortable, secure testing site. FSW Testing adheres to the standards and guidelines as set forth by the National College Testing Association (NCTA).
The following exams are a portion of the testing services that are provided by Florida SouthWestern State College.  The tests that FSW Testing Services administer are subject to change. Please check http://www.fsw.edu/testing for specific testing services offered, locations of testing, and hours of operation.
Common Placement Testing is used to determine placement in English, mathematics, and reading courses. Florida SouthWestern State College follows Florida State Rule 6A-10.0315 concerning placement testing. For more information, visit the Placement Testing Information page at http://www.fsw.edu/testing/placement
English for Academic Purposes (EAP) placement test is used to determine placement for students whose native language is not English or who have not graduated from a U.S. high school. Students may be required to take the English proficiency test before common placement testing is administered. For more information visit the English for Academic Purposes web-page.
College-Level Examination Program® (CLEP) is the most widely accepted credit-by-examination program. More than 2,900 accredited institutions of higher education award credit for satisfactory scores on CLEP exams. There are 33 examinations and all are available at Florida SouthWestern State College. Florida SouthWestern State College does not award credit for all available exams.
The College-Level Mathematics (CLM) test measures your ability to solve problems that involve college-level mathematics concepts. To qualify for the College Level Math (CLM) Test, a student must have achieved the following math scores: PERT (135+), ACT (25+), or SAT (560+). Students who have achieved these scores and wish to enroll in a course higher than Combined College Algebra/Pre-Calculus (MAC 1106) are eligible to take the College Level Math (CLM) Test at any FSW Testing Center. There is NO RETEST opportunity for the CLM test. There are six content areas measured on this test: Algebraic Operations, Solutions of Equations and Inequalities, Coordinate Geometry, Applications, and other Algebra Topics, Functions, and Trigonometry. Study information can be found under the College-Level Mathematics Test section.
FSW Online (Distance) Testing Services are available on all campuses and at the Hendry/Glades Center. Testing locations, hours, and procedures as well as testing services offered can be found on the Proctored Exam Services web-page.
Nursing Entrance Test–The Test of Essential Academic Skills (TEAS®) is a multiple-choice assessment of basic academic knowledge in reading, mathematics, science and English and language usage. The objectives assessed on the TEAS exam are those which nurse educators deemed most appropriate and relevant to measure entry level skills and abilities of nursing program applicants. In order to register for the TEAS, please review all information on the TEAS Registration Information sheet. The TEAS Registration Information sheet will link you to ATI Testing and a tutorial for registering and scheduling your FSW TEAS exam.
Pearson VUE Authorized Test Centers are third-party testing facilities which provide on-site testing for certification and professional licensure exams. Pearson VUE provides a full suite of services from test development to data management and delivers exams through the world's most comprehensive and secure network of test centers in more than 175 countries.
Florida SouthWestern State College is an authorized Pearson VUE Test Center. Pearson VUE testing is available at the Thomas Edison (Lee) Campus Testing Center located in Fort Myers. FSW's Thomas Edison Campus Testing is authorized to deliver all Information Technology exams for Pearson VUE.
Additional information concerning testing and types of tests offered at each location may be obtained by visiting http://www.fsw.edu/testing .